Royal Mail are experiencing delays with some parcels due to both high demand and Covid absences. Your Delivery may be slightly delayed but your order will ship from us as normal. your patience and understanding in these difficult times are appreciated.

The Online Store for all of Your Genuine Briggs & Stratton Engine Parts



We have been a Briggs and Stratton dealer since 1989 and have designed this site as a comprehensive place for customers in the UK, Ireland and Europe to buy Briggs and Stratton original spare parts online.


Here at Briggsbits, we do nothing other than provide Briggs and Stratton parts
We are not a multi manufacturer dealership so do not have the complication of dealing with other distractions such as selling lawnmowers or parts for anything else. This means that all day, every day, we are completely focused upon Briggs and Stratton, their engines and our customers. Sad though it my seem, Briggs and Stratton part numbers are etched into our minds.

All parts supplied are genuine Briggs and Stratton spare parts so you are assured of the correct fit, original quality and reliability.

Regular service spare parts are all listed in the catalogue accessed from the PARTS STORE, Just click on the section that your engine falls into. There is even a help page to assist in identifying your engine if needed.

Some parts are listed in a kit with other items required to carry out certain common service tasks such as carburetor service, valve lapping and adjustment etc.

If you cannot find the parts that you require within the store pages, this is catered for with our PARTS LOOKUP AND SPECIAL ORDERS section. Here you will find links to the parts lookup diagrams for all Briggs and Stratton engines together with comprehensive advice to guide you through them.

Please note:

We do not enter into correspondance regarding fault diagnosis. The links to Briggs & Stratton's website should cater for most enquiries.


Whether you have an Atco, Mountfield, Hayter, Champion, John Deere or Masport mower, Westwood, Countax, Twin Cut, Husqvarna or MTD Lawnflight ride-on or tractor lawnmower,
Generator, rotorvator, tiller, cultivator, stump grinder, belle cement mixer or chipper shredder, powered by Briggs and Stratton

..........this is the place for all your Briggs and Stratton Engine Parts !
---


Briggs and Stratton Quantum, Classic, Sprint, Quatro, Intek DOV Max 4HP and other 2-7 HP Vertical Crankshaft Engine spare parts.
As fitted to rotary lawn mowers


Spare parts for Briggs and Stratton Intek, Diamond, I/C, and other Single Cylinder Engines greater than 7 HP

As fitted to industrial rotary lawn mowers, garden tractors ride-on rotary mowers,; paddock vacuums and other large equipment



Briggs and Stratton Vanguard, Intek and other Twin Cylinder Vertical Crankshaft Engine spare parts

As fitted to garden tractors


Vanguard, Intek, Industrial Plus, and other Briggs and Stratton 2-6 HP Horizontal Crankshaft Engine spares




Spare Parts for Briggs and Stratton Vanguard, Intek and other single cylinder Horizontal Engines 6HP and Above

as fitted to Chippers, Stump Grinders and many industrial applications


Twin Cylinder Horizontal Crankshaft Engine Spare Parts

Usually fitted to larger industrial equipment such as Generators, Compressors,; Winches, Stump Grinders, Pumps, Floor Cleaners, Hovercrafts, Utility Vehicles etc.


Briggs and Stratton new replacement engines and shortblocks

To give your equipment a new lease of life




Specialist Briggs and Stratton Service and Repair Tools and Manuals


A Simple Stepped Guide To Looking Up and Ordering Spare Parts Not Listed on the Site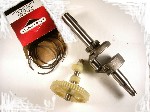 If you have contacted us and received conformation of spare parts price and availability, please order from this section,

Do You Have a Website?
If you have a website and think that we may be of interest to your users. Please feel free to link to us by pasting the following code into an appropriate place on your site.
&lta href="http://www.briggsbits.co.uk" target="_blank"&gtThe online shop for Briggs and Stratton Parts&lt/a&gt
...it will open into a fresh window, leaving your site on the users browser.
©copyright 2019 Mower Bits Ltd. All rights reserved
(see terms and conditions)