Briggs and Stratton Quantum, Classic, Sprint, Quatro, Intek DOV Max 4HP and other 2-7 HP Vertical Crankshaft Engine spare parts.
(As fitted to rotary lawn mowers)


Spare parts for Briggs and Stratton Intek, Diamond, I/C, and other Single Cylinder Engines greater than 7 HP.

(As fitted to industrial rotary lawn mowers, garden tractors ride-on rotary mowers, paddock vacuums and other large equipment)



Briggs and Stratton Vanguard, Intek and other Twin Cylinder Vertical Crankshaft Engine spare parts.

(As fitted to garden tractors)


Vanguard, Intek, Industrial Plus, and other Briggs and Stratton 2-6.5 HP Horizontal Crankshaft Engine spares
(as fitted to Cylinder Mowers, Rotorvators, Cement Mixers etc.)



Spare Parts for Briggs and Stratton Vanguard, Intek and other single cylinder Horizontal Engines 6HP and Above

(as fitted to Chippers, Stump Grinders and many industrial applications)


Twin Cylinder Horizontal Crankshaft Engine Spare Parts

(Usually fitted to larger industrial equipment such as Generators, Compressors, Winches, Stump Grinders, Pumps, Floor Cleaners, Hovercrafts, Utility Vehicles etc.)


Briggs and Stratton new replacement engines and shortblocks.

To give your equipment a new lease of life.




Specialist Briggs and Stratton Service and Repair Tools and Manuals


A Simple Stepped Guide To Looking Up and Ordering Spare Parts Not Listed on the Site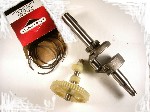 If you have contacted us and received conformation of spare parts price and availability, please order from this section.